Guide to Renting a Happy Little Dumpster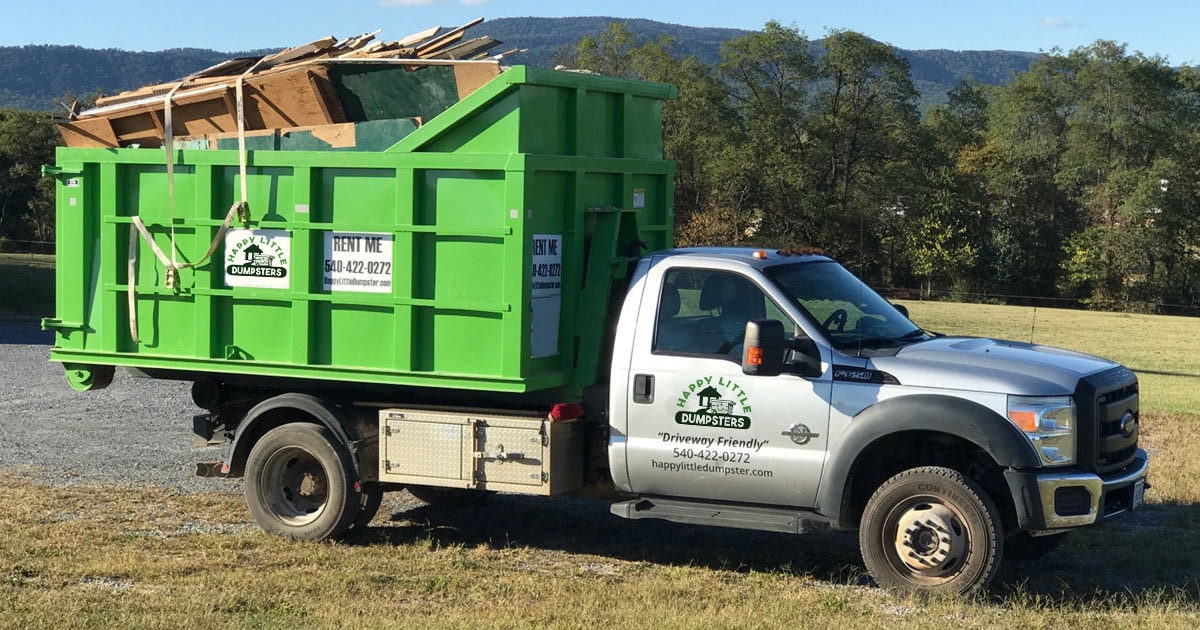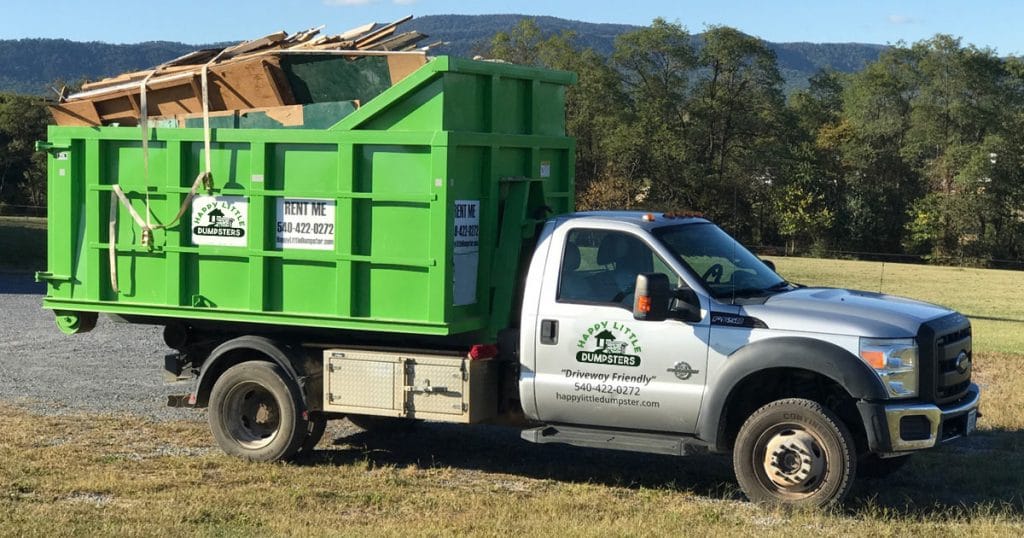 The purpose of this article is to let you know that dumpster rental is an easy, cost-effective option for homeowners and renters. Renting a Happy Little Dumpster is even easier.
Whether you're cleaning up your yard, cleaning out your garage or moving out of your dorm, we have a dumpster sized, and priced, to fit your needs!
You can use the links in the "Table of Contents" to jump directly to any section, or feel free to read from top to bottom. If you have any questions, call us at 1-888-33-HAPPY or use our contact form.
Dumpster Sizes
The first step in the dumpster rental process is determining which size dumpster is best suited to your project. We offer dumpsters in three sizes; 6 yard, 12 yard, and 16 yard. We've found that these three sizes suit the needs of the vast majority of DIYers and contractors. Below you'll find information about each specific size, along with their common uses.
6 Yard Dumpster - Heavy Projects
Our 6 yard dumpsters are perfect for heavy debris, like plaster, concrete, bricks, blocks, stone, gravel, or asphalt shingles.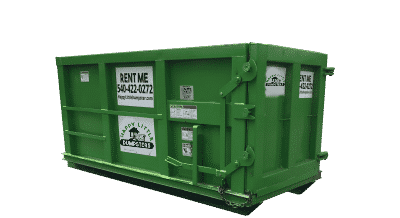 Common Uses:
Roofing Material (20 Square Max)
Small Kitchen Remodel
Small Deck Demolition (10x10)
Fencing Material & Yard Cleanup
Basement Cleanout
2 Bath Remodel
Sod Delivery & Haul-off
Small Garage/Basement Cleanout
Aside from indoor projects, a 6 yard dumpster can be a perfect fit for landscape and garden cleanup, as well as small (10x10) deck demolitions. If you're doing a roofing project with asphalt shingles, a 6 yard dumpster with a 4 ton weight allowance will hold around 20 square worth of shingles.
18 Yard Dumpster - Large Projects
18 yard dumpsters are excellent for large DIY projects and commercial job sites. A 16 yard dumpster can hold a LOT of junk, but still has a small footprint of only 8' wide by 12' long. In short, if you have room to put a car somewhere, you have room to put one of our dumpsters there. For heavier loads, we recommend the 6 or 12 yard dumpsters, due to weight concerns with our lightweight trucks.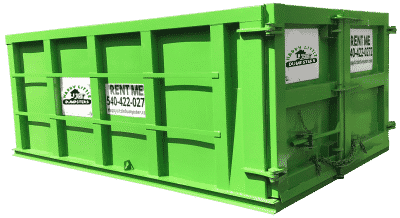 Common Uses:
Large Kitchen Demolition
Large Garage/Basement Cleanup
Multiple Home Improvement Projects
Deck Demolition (10x30)
Flood Restoration
Fire Restoration
Roofing Material
Estate Cleanup
If you're still unsure what size dumpster best fits your needs, give us a call and we'll be happy to help you decide.
12 Yard Dumpster - Medium Projects
Most DIY projects around the house can be accomplished with a 12 yard dumpster. What kind of projects?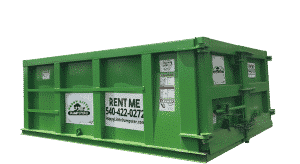 Common Uses:
Average Size Kitchen Remodel
Medium Garage/Basement Cleanout
Small Kitchen + Bath Tearout
Deck Demolition (10x18)
Roofing Material (35 Square Max + Junk)
Fencing Material & Yard Cleanup
Sod Delivery & Haul-off
Estate Cleanout
Kitchen remodels, garage or basement cleanouts, and medium (10x18) deck demolitions can usually be contained in a 12 yard dumpster. If you're tackling a roofing project, a 12 yard dumpster can hold 35 square worth of shingles along with all the paper and debris that goes along with roof replacement.
Dumpster Features
Compact Size
Our 18 Yard Dumpster is barely larger than a 4 door sedan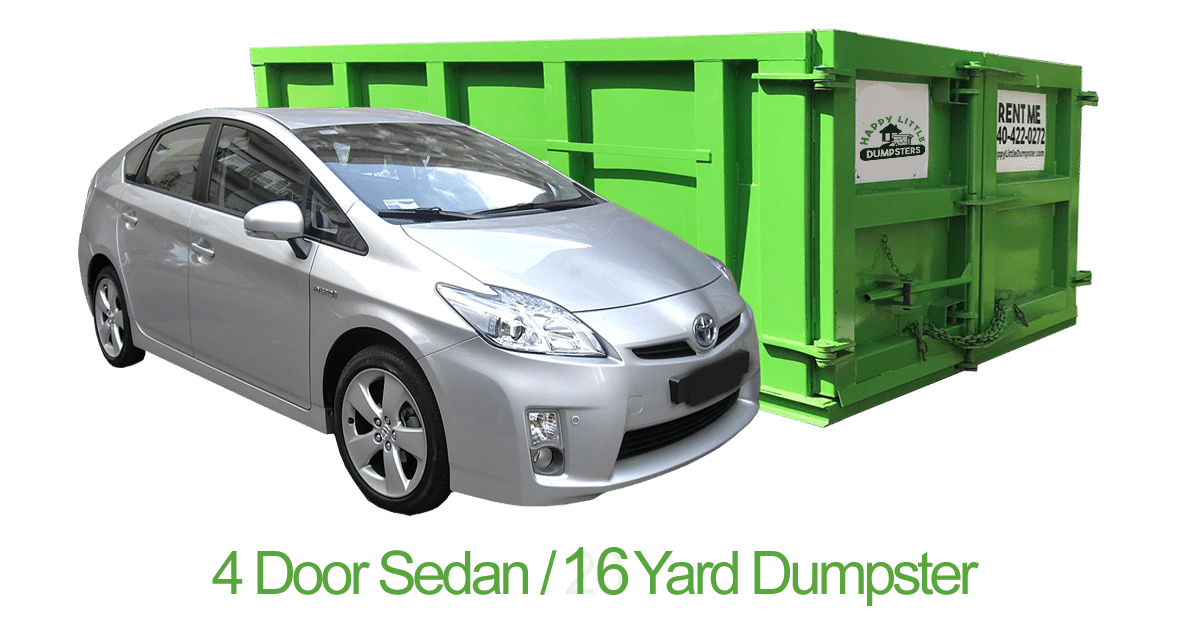 Space-Saving Door Design
Our space-saving door design requires only 4ft of clearance
Ready to Rent a Dumpster?

What Can I Throw Away?
We're happy to accept most any household & construction waste, as well as landscaping or yard debris. While we love to say yes, we are not a hazardous waste carrier & cannot accept any form of hazardous waste. The lists below show what we regularly accept, as well as items we are unable to accept. If you have questions about what is and isn't acceptable for disposal in our dumpsters, please give us a call or contact us.
Acceptable Items
Mixed Use

Household Items & Waste
Paper
Plastics
Glass
Furniture
Construction Debris

Remodeling Materials
Shingles
Bath & Kitchen Tear Outs
Yard Waste (no tree stumps)
Appliances & Scrap Metal- Large amounts of appliances and/or scrap metal should be added to separate dumpster.  One or two appliances should be placed on top of refuse pile. Appliances with freon are charged a $15 freon disposal fee from most disposal sites.
Most Electronic Devices
Heavy Materials
With Advanced Permission

Concrete
Soil
Brick
Plaster
Unacceptable Materials
Tires
Paint
Chemicals
Solvents of Any Kind
Asbestos
Oil Tans or Oil Drums
Radioactive Anything
Volatile
Highly Flammable Liquids or Materials
Explosives
Bio-Medical Waste
Infectious Waste
Toxic or Hazardous Materials/Waste
Liquids of Any Kind
What To Expect
On-Time Delivery & Courteous Drivers
You can expect our delivery driver to show up on time, and provide you with excellent customer service. If you're present for delivery, the driver will show you how to operate the doors on the dumpster and answer any other questions you may have.
Protection of Your Property
Your dumpster will be delivered and placed on wooden skids that protect your property surface. The entire delivery process only takes a matter of minutes, and then you'll be ready to start loading that dumpster.
Fast Pickup
When you're done with the dumpster, call us and we'll pick it up same day or the next day. You do get three days with no daily rental charge, but we do love getting the dumpster back early so other costumers can use it. The pickup process also extremely fast. Within minutes you'll be watching a dumpster full of junk drive off into the sunset!
Plan Ahead
In general, it is best to plan ahead for your dumpster rental. Not only does this provide you time to decide what size dumpster you need and how long you'll need it, it also helps ensure a dumpster will be available.
We recommend requesting a dumpster 5 to 7 days prior to your desired delivery date.
We do offer same-day dumpster delivery, but that is based on dumpster availability. We recommend requesting a dumpster 5 to 7 days prior to delivery to ensure the size dumpster you need is available.
If Possible, Stage Your Items
Staging your items ahead of time may save you both time and money. If you're able to stage your items close to your desired dumpster location, you may be able to limit the number of rental days needed down to only 1 day.
Staging your items ahead of time will also allow you to take your time and reduce your workload once the dumpster is delivered.
Staging your items will reduce the need to travel to and from the dumpster once it is delivered.
Preparing Your Home/Jobsite
In preparation for delivery, make sure the path to your desired drop-off location is clear of any obstacles such as vehicles, bicycles, lawn furniture, trash, or toys.. The delivery truck will also need approximately 12 feet of vertical clearance when dropping off and picking up the dumpster.
If you will not be present when the dumpster is delivered, please describe and mark the desired drop-off location.
Note: Please make sure underground utilities such as septic tanks, or drains are not in the path of the delivery vehicle. The vehicle will weigh over 16,000lbs when leaving with a full dumpster, and could potentially crush underground utilities.
Dumpster rental pricing varies based on a few factors, such as:
Location
Dumpster size
Type of debris being disposed of
Duration (number of rental days)
Weight
You can get an instant, flat-rate, quote by visiting our Dumpster Rental Prices page.
Why Flat-Rate Pricing?
For residential customers, flat-rate dumpster rental pricing makes the most sense. Flat-rate prices provide an all-inclusive price based on the dumpster size, the number of days the dumpster is being rented for, and the maximum allowable weight of the dumpster contents.
With flat-rate pricing you know exactly what you're getting and exactly what you're paying. No surprises.
What if I Keep the Dumpster Longer, or am Overweight?
If you keep the dumpster beyond the original number of days, or if you go over the maximum allowable weight, there are additional fees. Those fees are as follows:
Additional Days: $5/day
Additional Weight: Depending on which landfill we use, $45 to $60/ton (Not to exceed 4 tons total)
In our experience, asphalt shingles and concrete are the items most likely to cause overages due to their weight. Asphalt shingles don't take up a lot of space, but are very heavy relative to their size.
Check out our article How To: Estimate Material Weight Like a Pro for more information on estimating the weight of your refuse. If you are still unsure about weight, give us a call! We'll be glad to help!
Local
Make sure the company you talk to is actually a local company, not a broker. Working directly with a local company will save you money, and ensure you have direct contact with the company providing the service.
Clean Dumpsters
Making sure a clean dumpster arrives at your location is important. A smelly, dirty dumpster isn't just a nuisance, it can also be a breeding ground for bacteria.
Make sure the dumpster rental company you select provides clean dumpsters. A little dust and dirt on the outside is normal, but don't accept a dumpster that shows up smelling or looking like the landfill.
Timely Dumpster Pickup
Nobody wants a full dumpster taking up space on their property or jobsite. Make sure the company you rent a dumpster from will pick up your full dumpster the day you call for pick up. A lot of companies will wait several days before pick up.
Happy Little Dumpsters, LLC will happily pick up your dumpster as soon as you're ready, regardless of your rental duration. Simply call us, and we'll haul it away the same day.
Transparent Pricing
As stated earlier, flat-rate pricing makes sense for residential rentals. You know up-front exactly how much you're spending, and exactly what you get for that price. Look for a company that provides flat-rate or all-inclusive pricing.
This pricing structure should include the dumpster rental for a set number of days, landfill fees up to a certain weight, and all applicable taxes. Verify with the company that there are NO hidden fees.
Customer Service
Any service company should be focused on providing an excellent customer experience. Look for a company that goes out of their way to accommodate your needs.
Additionally, it's a good sign when a company responds quickly to your emails, texts, or calls. Companies that readily make themselves available to you, or offer extended business hours, are focused on providing you with a quality service and experience.
Any Questions?
If you have any questions at all about how dumpster rental can help you accomplish your projects, we'd love to hear from you. Give us a call, leave a comment below, or fill out our contact form.
If you found this information useful please share it with your friends on social media!
Ready to Rent a Dumpster?
GET AN INSTANT QUOTE. NO PERSONAL INFO NEEDED.