DUMPSTER RENTAL FROM CHARLOTTESVILLE TO HARRISONBURG, VIRGINIA
WE ARE VIRGINIA'S CHOICE
For dumpster rental services, roll-off solutions, and junk removal. Happy Little Dumpsters is a Verified Veteran Owned Small Business. We provide highly exceptional dumpster services within Virginia, serving residents, contractors, and commercial clients around Charlottesville, Waynesboro, Staunton, and Harrisonburg, Virginia.
How We Are Different Than Other Dumpster Rental Companies
Happy Little Dumpsters is focused on customer service first, and our testimonials reflect this. We are unmatched in our industry, providing timely dumpster rental service, often on the same-day as requested. Here are the major differences between us and other dumpster companies:
Various size dumpsters in the "mini-roll-off" category with varying price points designed to match the size of your project.
We operate lightweight, new and clean trucks that won't damage your property.
Our dumpsters have a small footprint, so they don't occupy valuable space on your property or worksite. They can fit in small places like alleys, garages and backyards.
We customize our deliveries and pick-ups to your schedule.
We provide each client with a login portal for easy invoicing and receipt history.
We don't use middlemen to find business. We strictly find our own customers, so we maintain a personal, trustworthy relationship with them.
We provide our customers with an automatic quote, and a personalized online dumpster reservation system directly on our website on the rent a dumpster page.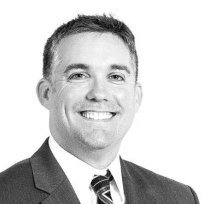 Kyle Miller
President
Happy Little Dumpsters, LLC
I'm Kyle Miller, the President and Founder of Happy Little Dumpsters, LLC. Read more about the Happy Little Dumpster story from the Shenandoah Valley Business Journal.
For most of my adult life, I have lived in a residential community.  I had several different DIY home projects and had always been vexed about what to do with the piles of trash I accumulated at the end of the project.
I used my truck, or trailer and found myself taking trip after trip to the landfill, where I was hassled about what pile of trash to put in what pile, getting my truck dirty, and nails in my tires.
Ain't nobody got time for that!  I needed to be focusing on my home project!
I tried to make deals with my local trash collection company.  They didn't even have a human to speak to! If it didn't fit in the trash bin, they wouldn't pick it up.  The debris service they offered was always too particular about what was in the debris. Other services I contacted did not reach my area and their bags collapse while you're putting trash into them and they're way overpriced anyway.
I thought about dumping my trash into my neighbor's yard, but, wait- he's my neighbor.  Several attempts failed, and to no avail, I found myself, yet again spending most of my days hauling stuff to the landfill, violating highway transportation rules and overloading my truck and/or trailer.
After I retired from the Army, I either was going to continue to work as an aircraft inspector or follow the American dream of becoming an entrepreneur; I chose the latter. With the guidance from E-PAK Manufacturing, their expertise helped me with the sizes, fit, and model of mini roll-off dumpsters and equipment we use today.
So, I'd love to bring your next dumpster rental to your home, contractor, or business. No, it doesn't offend me if you call me the happy little dumpster guy!