Are you overwhelmed by the clutter in your house, garage, storage building, or basement? Feeling like there is no way to get rid of everything? Avoiding friends, or referring to rooms in your house as storage rooms? Maybe it's time to take on a DIY junk removal project with the help of a Happy Little Dumpster!
You'll be amazed by how much you can accomplish with our dumpsters!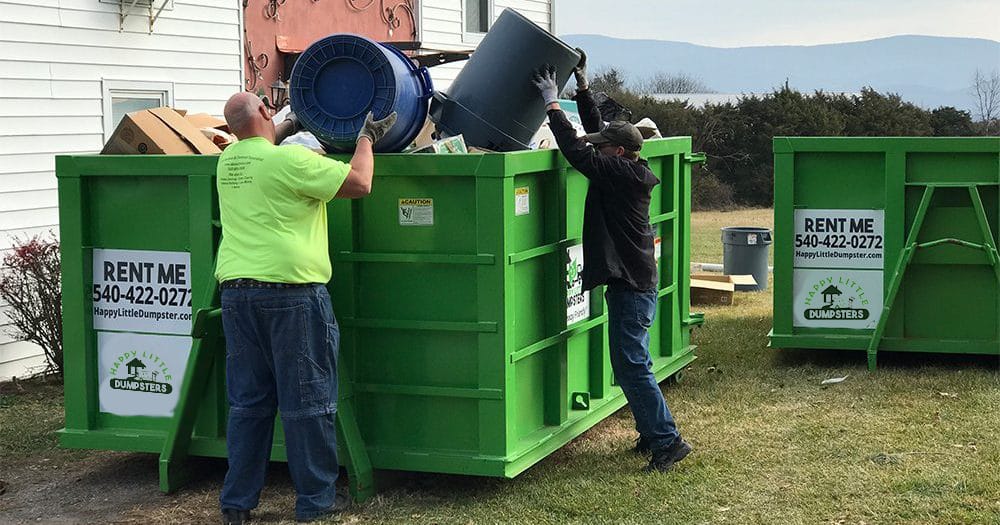 Need Help Removing Junk?
Provider: Abelia Services
Our customers have been really impressed with how this company cleans out junk, and we think you will too.
Cost Effective
With dumpster rentals starting at just $300, a DIY junk removal project can save you hundreds of dollars compared to hiring a junk removal service. Save money on the cleanup, and put it toward your next project! For more information on pricing, visit our dumpster rental prices page.
Swing-Open Dumpster Doors
Our swing-open door design provides easy walk-in entry into the dumpster, eliminating the need for overhead lifting. Simply swing open the doors, and walk your junk in.
Junk Removal at Your Own Pace
Our dumpster rentals include 3 days of free dumpster rental. This allows you to take your time as you declutter. Need more time? No problem. You can add additional rental days, at $5 a day. Maximum 30 day rental
Delivery To Your Doorstep
Our specialized delivery trucks can literally deliver a dumpster to your doorstep. We can position your dumpster so that it is easily accessible, saving you both time and energy. Our dumpsters are always placed on top of wood shoring to protect your driveway or other surfaces.
Smartly Sized Dumpsters for Every Job
Our dumpsters are great for all kinds of DIY cleanup projects including:
Residential Cleanup
Garage Cleanouts

Yard Debris Cleanup

Appliance Removal

Furniture Removal

Bathroom Remodels

Hot Tub Removal
Commercial Cleanup
Computer Recycling & Disposal

Office Appliance Disposal

Office Furniture Disposal

Property Management Cleanouts

Apartment Cleanouts

Foreclosure Cleanouts

Construction Site Cleanup
Property Cleanouts
Attic Cleanouts

Basement Cleanouts

Garage Cleanouts

Storage Unit Cleanouts

Estate Cleanouts
Need a Junk Removal Service?
We can match you up with junk removal specialists who come highly recommended by our customers. For more information about dumpster rental, contact us today!