Happy Little Dumpsters of Charlottesville, LLC
801 W. Main Street, Suite 206, Charlottesville, VA 22903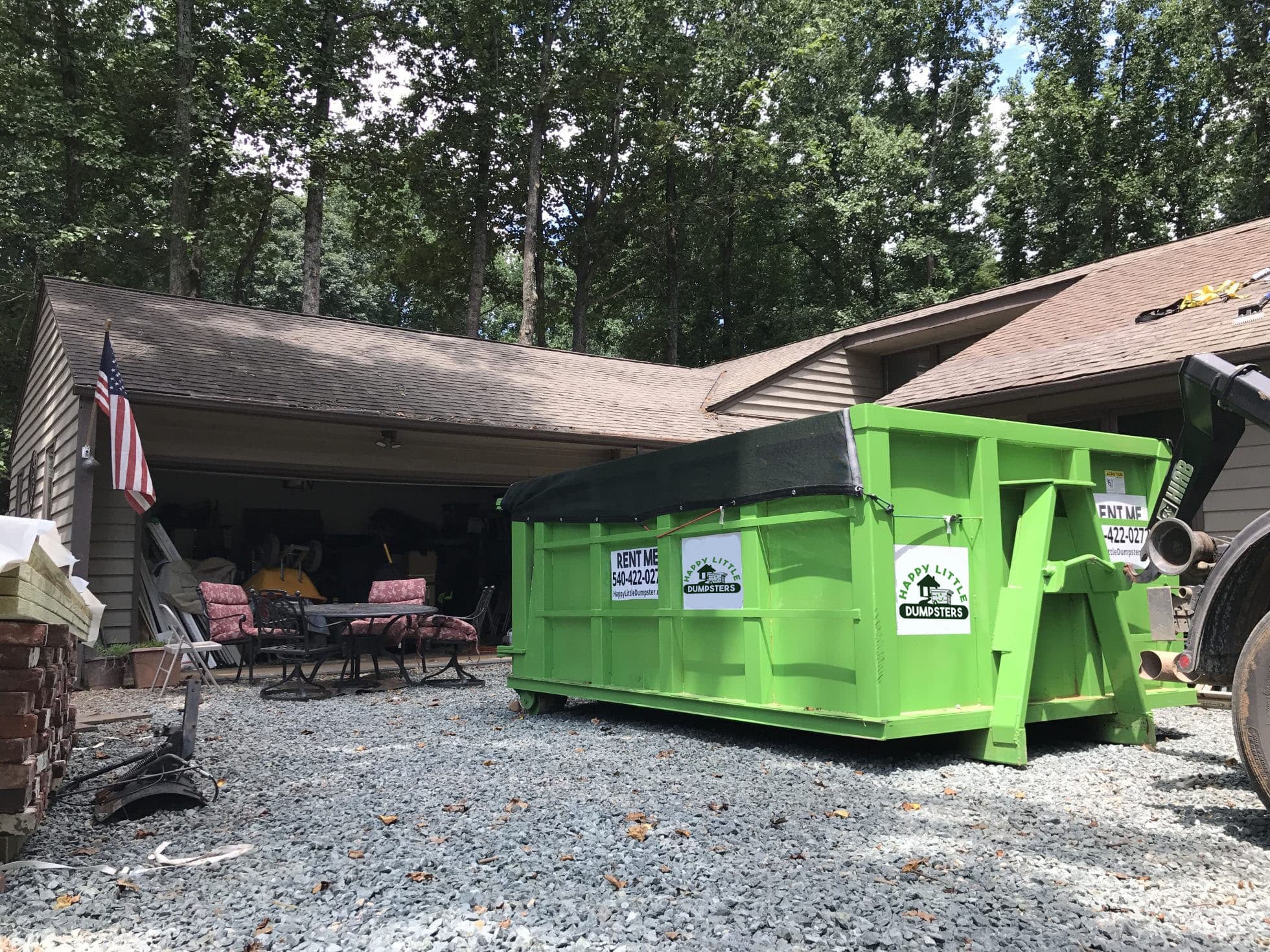 A Big Job Calls For A Stanardsville Dumpster Rental.
If you've got a big project on your hands in Stanardsville, we can help with the dumpster rental. Our services are streamlined to make the process easy and transparent. You'll never be left with hidden fees because what you see is what you get. Requesting junk removal has never been easier with Happy Little Dumpsters.
Homeowners and contractors alike love our dumpster rental service. That's because we have a basic process starting with a request from you. We offer dumpsters of all sizes to fit your needs. Once you've selected your dumpster, we'll deliver it to your location in Stanardsville. Then you fill it up, and we'll haul it away for proper disposal. Plus, you never have to worry about receiving a beat up dumpster from us. All of our containers look professional to keep your jobsite tidy.
Do you have a bunch of scrap metal on your hands? Let's keep it out of the landfills and recycle it! Much like our dumpster rental, we will gladly deliver a container to your site for you to fill with all your scrap metal. When you're ready, we'll pick it up and take it to a reputable recycling facility. Even better, we are so passionate about keeping recyclables out of landfills, that we typically offer this service free of charge!
It's not hard to do your part for the Stanardsville community. In fact, you can help keep our community clean by simply signing up for our free service, the Freecycle Program! You'll be notified when recyclable materials are up for grabs in your area. If you choose to claim them, we will deliver them directly to you. It doesn't get much simpler than that! 
You Can Trust Us With Your Junk.
You may be wondering where all your junk ends up when we haul it away. We follow Virginia Department of Environmental Quality standards and work with trustworthy disposal sites in the area to be sure we're properly handling all the materials we're responsible for throwing out.
The Stanardsville Community Is Our Priority.
When you work with Happy Little Dumpsters, rest assured that we're locals too. We want the best for Stanardsville, and that's why we invest our time, resources, and equipment to nonprofits in the community and surrounding areas. We're a Certified Veteran-Owned Business, and we can't imagine a better way to show our commitment to our home.
Does a dumpster rental sound right for your Stanardsville project?
Service Area Coverage
| | |
| --- | --- |
| Batesville | Charlottesville |
| Covesville | Crozet |
| Earlysville | Esmont |
| Free Union | Greenwood |
| Ivy | Keene |
| Keswick | North Garden |
| Schuyler | White Hall |
| Stanardsville | Ruckersville |
| Troy | Lake Monticello |
| Zion Crossroads | Palmyra |
| Barboursville | Gordonsville |
| Lovingston | Shipman |
Note: The Charlottesville service area is not limited to the above cities. They are simply the cities we most commonly service. If your location isn't listed, contact us as we probably service your area.