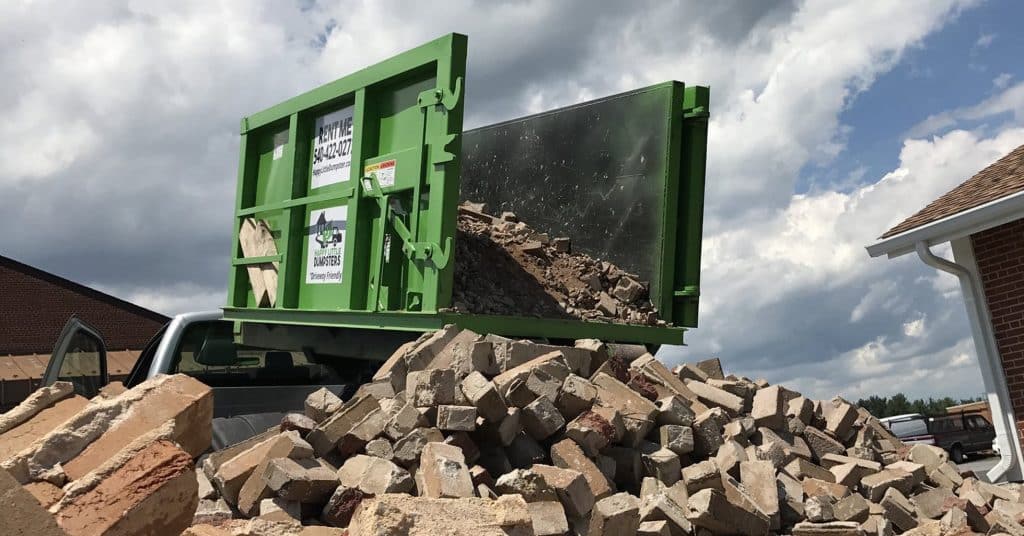 Do you need to dump some heavy items.  Items like bricks, concrete, concrete block, and large appliances can get really expensive to dump at the landfill. Use our tips below to save yourself some money if you're dumping on your own.
If you're using a rental dumpster, don't let the rental company overcharge you based on weight for these items either! It's true that most refuse dumping is charged by weight, but luckily there are ways to get rid of the heavy weights without draining your bank account.
If you're not aware, landfills charge based on weight using a "weight=price" formula. While this formula holds true for some forms of refuse, such as household garbage, sometimes there are ways around this "weight=price" concept.
Commonly Recycled Items
We maintain a network of contacts that recycle or reuse several different materials like:
Bricks
Concrete
Concrete Block
Large Appliances
The benefit of knowing where to take what, is that we can take a dumpster that would cost you a fortune based on weight and deliver it to the right recipient without incurring additional weight based costs.
Where to Go for Discount Dumping
For example, if you're getting rid of appliances there are several creative alternatives to the landfill. Examples include The Mercy Home, Habitat For Humanity, and Craigslist.
If you can crush the concrete block you want to dispose of, the landfill will often accept it without weight based charges. This is also true for brick.
Finally, if you're disposing of shingles, Green Earth LLC will accept and recycle them for less than you pay to dump at the landfill.
Other companies may try to charge you additional fees for weight on items that don't incur weight-based fees, don't let them! If you have a question about the costs associated with disposing of specific items, contact us and we'll be happy to help you out!